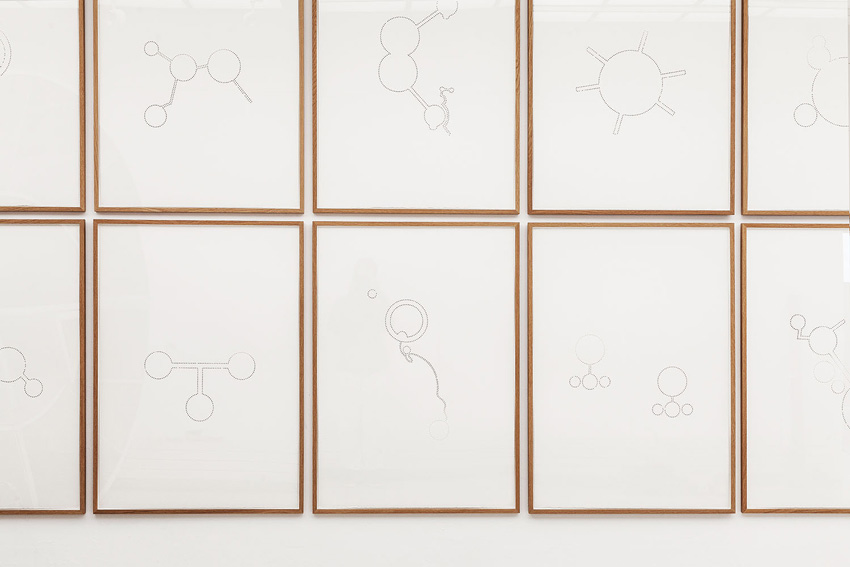 Agroglyphes (Crop Circles)
Perforations sur papier
105 cm / 75 cm chaque dessin
Nicolas Boulard – 2011
Les Agroglyphes redessinent les relevés au sol des traces étranges repérées dans les champs de blé dans le monde entier et depuis plusieurs dizaines d'années. Ces traces géométriques quasiment parfaites demeurent inexpliquées, et alternativement attribuées à des plaisanteries potaches de mathématiciens ou à des passages extra-terrestres… au point que la commune de Chateauneuf-du-Pape, réputée pour ses vins rouges, ait officiellement fait passer en 1954 un arrêté municipal interdisant aux soucoupes volantes le survol de son territoire !
Agroglyphes
Perforated Paper
105 cm / 75 cm
2011
The Agroglyphes (Crop Circles) redraw strange traces identified in the wheat fields around the world for several decades. These almost perfect geometric traces remain unexplained, and in turn attributed to mathematicians jokes or aliens passages … to the point that the town of Chateauneuf-du-Pape, famous for its red wines, has officially passed in 1954 a law forbidding flying saucers flying over its territory!