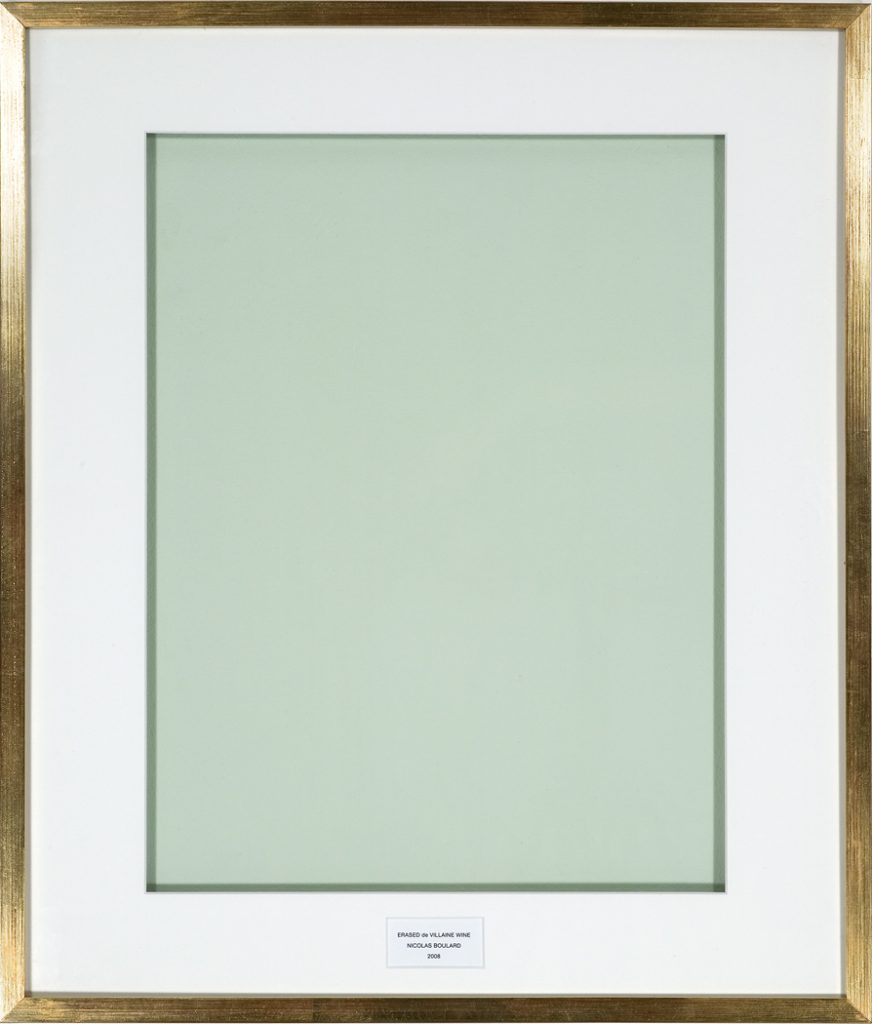 Erased de Villaine Wine
2008
Verre, vin « Bouzeron domaine Aubert de Villaine millésime 2006 », encadrement
Glass, « Bouzeron wine domaine Aubert de Villaine, 2006 vintage », frame
64 x 55 cm
Collection privée, Suisse
En 1953, l'artiste Robert Rauschenberg demanda au peintre Willem de Kooning de lui donner un de ses dessins dans le but de le gommer. Willem de Kooning accepta et donna à Rauschenberg un de ses plus beaux dessins. Désormais encadré, le dessin effacé est maintenant connu sous le nom «Erased de Kooning Drawing». Nicolas Boulard renouvelle ce protocole mais remplace le dessin par un vin blanc Bouzeron que lui a donné Aubert de Villaine, le cogérant du domaine de la Romanée-Conti. Le vin mis sous verre et exposé à la lumière va s'oxyder avec le temps pour passer d'une teinte quasi trans- parente à une couleur sombre et opaque.
Erased de Villaine Wine
Vin blanc Bouzeron, verre, encadrement
64 x 55 cm
Nicolas Boulard – 2008
Collection privée – Genève
In 1953, the artist Robert Rauschenberg asked the painter Willem de Kooning to give him one of his drawings so that he could erase it. Willem de Kooning agreed and gave Rauschenberg one of his most beautiful drawings. The erased drawing is now framed and titled Erased de Kooning Drawing. Nicolas Boulard renews this procedure but replaces the drawing with a white Bouzeron wine given to him by Aubert de Villaine, co-manager of the Domaine de la Romanée-Conti. The wine put under glass and exposed to light will oxidize over time, and change from an almost transparent hue to a dark and opaque colour.
Erased de Villaine Wine
White wine Bouzeron, glass, frame
64 x 55 cm
Nicolas Boulard – 2008
Private collection – Genève